Peregrine, a pioneer in the small-group tour industry, is expanding its offerings in the experiential travel market with a new set of adventure cruises, regional director of North America Leigh Barnes told TMR.
The tour operator is part of one of the world's largest adventure-travel companies, the Intrepid Group. It started with small-group adventure treks through the Himalayas 39 years ago and eventually grew to the company of today, offering a range of premium small-group adventures such as touring through Italy to Machu Picchu or Southeast Asia.
"It's about always trying to get people off that beaten path to have a real under-the-skin experience," Barnes said.
The newest product is a set of 10 adventure cruises centered on local experiences, visiting small ports in Croatia, Cuba, Iceland, Portugal, Panama and the Greek Islands that big ships can't get to. The trips are on small ships with no more than 50 travelers, and at a slower pace, operated by local guides, and  designed to give guests a taste of each city, with activities that let them interact with and support the local community.
"The real focus of the trips is the destination, allowing guest to understand what it's like," Barnes said.
The ships don't have all the bells and whistles of the big cruise lines—there's no casino or pool or bowling alley, Barnes said, but rather a more informal experience with an emphasis on food and drink.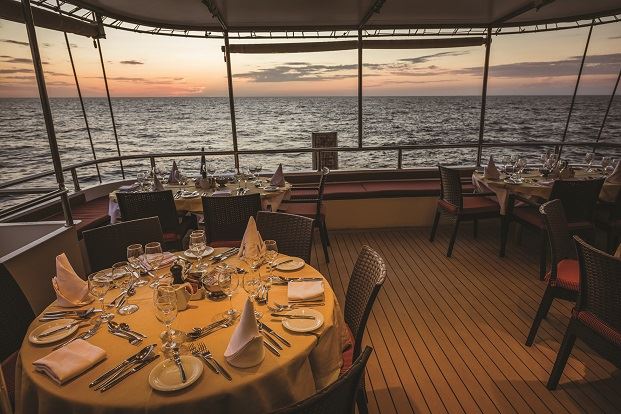 Dining area onboard Peregrine's cruises.
Two of the itineraries that will really resonate with North American clients, Barnes said, are the Cuba and Croatian and Iceland sailings.
The Cuba itinerary, eight days roundtrip from Havana, has its first sailing on Dec. 24 and continues through February. Onshore excursions include visits to one of the local paladeres or restaurants offering live music to salsa dance, a walk through historic Cienfuegos to get a taste of the city's French Neo classical architecture, and taxi rides through the country's historic capital, Havana. It starts at about $1,500 per person.
Travel agents earn commission on all bookings. Barnes said that the cruises are ideal for travelers who are interested in cruising but want to have a true destination experience.
The groups are usually composed of travelers aged 45 and older who are "looking to embrace that bit of adventure."
"People want to connect with other people and have a real experience more than anything," he said. "It's those real tangible moments."